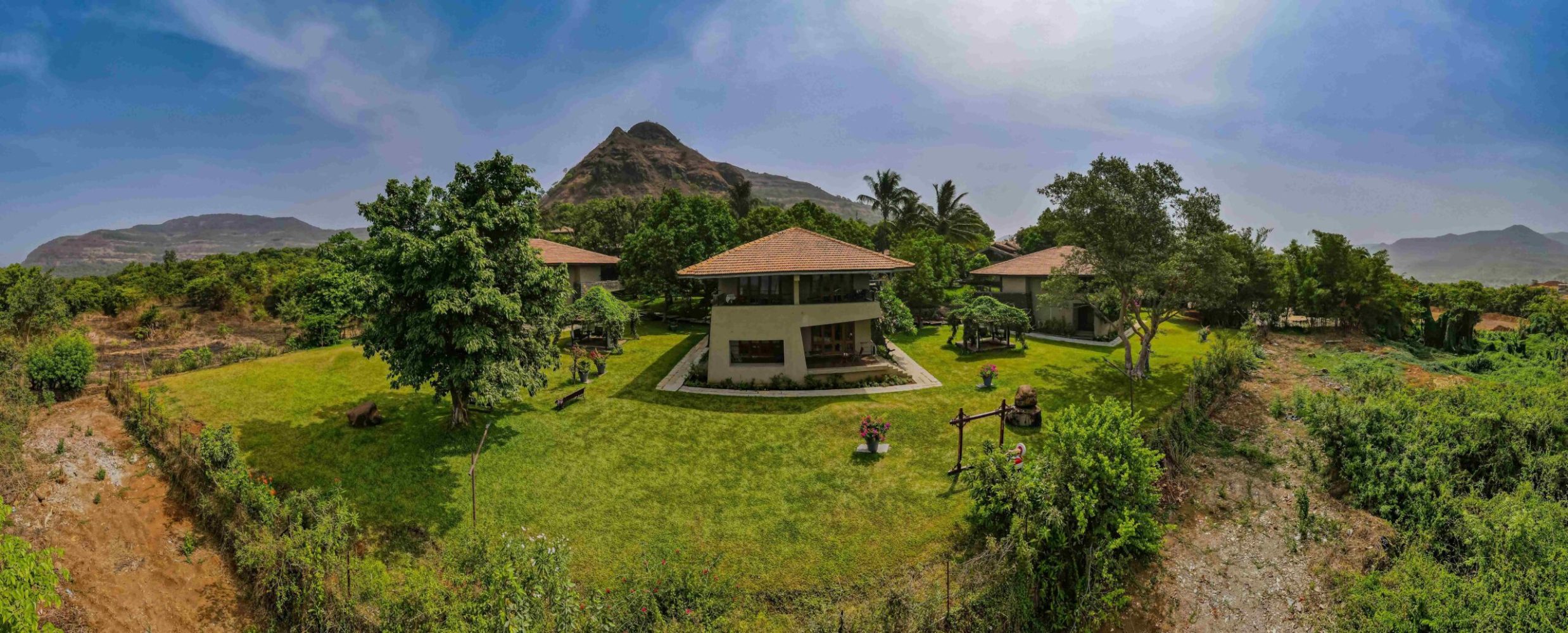 Visit the Best Luxury Resort in Maharashtra:
Malhar Machi, Maharashtra's Best-kept Secret
If you're looking for one of the best luxury resorts in Maharashtra, look no further than Malhar Machi!
Maharashtra is blessed with an abundance of natural beauty, including stunning landscapes, beaches and historical places. 
Among the scenic splendour is the Sahyadri Mountains which boast breathtaking natural beauty, with lush forests, waterfalls, and stunning views.
If you're looking to escape the busy city life, and want to experience the all-around beauty of Sahyadris while being comfortable is to spend time at resorts. 
When we talk about luxury resorts in Maharashtra, we cannot forget Malhar Machi, a mountainous resort nestled in the mountains of Sahyadri that offers a blend of luxury, nature, and serenity.
This luxury resort offers a wide range of activities like nature safari, horse riding, zipline tours, cycling, tractor rides, and much more. 
Let's explore the best luxury resort in Maharashtra and discover Maharashtra's hidden gem — Malhar Machi. But before that, let's answer a question.
Why Should You Choose Luxury Resorts?
Luxury resorts like Malhar Machi offer a unique experience that cannot be replicated by any other type of accommodation. By providing an escape from daily life, these resorts allow you to indulge in luxurious amenities and personalized services.
While resorts normally do provide you with basic amenities, luxury resorts offer breathtaking views and world-class dining options and spa treatments. 
Additionally, a luxury resort offers a one-of-a-kind experience that is well worth the money, whether you're looking to unwind or explore. In short, luxury resorts are designed to cater for your every need and desire.
Malhar Machi — One of the Best Luxury Resorts in Maharashtra
At Malhar Machi, you'll experience an unparalleled level of comfort and convenience that will make every moment of your stay unforgettable!
Located at Sahyadri mountains with Mulshi backwaters flowing at sight, Malhar Machi offers experiences that are greater than just sightseeing. Let's see what makes Malhar Machi the best luxury resort in Maharashtra.
Activities Worth Experiencing
Malhar Machi offers a range of exciting outdoor activities to help you connect with nature and relax. Below are some of the things you can do:
Nature Safari

: Experience the thrill of the wilderness on a Nature Safari.

Devrai

: Meditate and find peace within Devrai, a sacred cluster of trees.

Zipline

: Soar through the treetops on South East Asia's second-largest zipline

Horse Ride

: Take a horseback ride and enjoy the stunning landscape.

Herbal Garden

: Discover the world of herbs and their benefits at the Herbal Garden.

HI Tea Experience

: Indulge in a traditional Hi Tea experience in a serene setting.

Tractor Ride:

Enjoy a fun-filled bouncy ride on a Tractor.

Pet Farming:

Get a taste of country life at the Pet Farm.

Bicycle ride:

Take in the stunning views of the surrounding hills on a Bicycle ride.

Trekking:

Explore the scenic beauty of the Sahyadri mountains through trekking trails

Swimming:

Take a dip in the infinity pool and enjoy the sunset!

Massage and spa:

Indulge in a relaxing spa treatment and massage to rejuvenate your body and mind.
The peaceful location of Malhar Machi offers you a chance to explore the outdoors and participate in activities like trekking, cycling and horse riding. Located in the Sahyadri, this resort gives stunning panoramic views of the surrounding mountains and valleys that provide a serene experience. 
At Malhar Machi, each room is designed while keeping comfort in mind. The spacious rooms are equipped with elegant decor and modern amenities. In every room, you'll find everything you need from plush beds to comfortable seating areas. When you peek out of the windows or stand in the gallery, there'll be a blissful scenery waiting for you. Whether you're travelling alone or with family, you'll find a room as per your preference. 
Warm and Welcoming Hospitality
One of the highlights of the best luxury resorts in Maharashtra is the warm hospitality! Here, hospitality is not a profession, but rather a passion! The moment you step inside the resort, you'll be welcomed by the team who will make you feel like you're part of the family. Whether you want to personalize the dining experience or want assistance, the staff at Malhar Machi will always be ready to assist you throughout your stay. 
With its mesmerising landscapes, beaches and historical sites, Maharashtra is a state of natural beauty, and the Sahyadri Mountains are a prime example of this. If you're looking for the best luxury resorts in Maharashtra that combine comfort and natural beauty, Malhar Machi should be your preferred choice. 
With activities ranging from nature safaris to horse riding, zipline tours, and a trek through the herb garden, there is something for everyone. 
Come with us and explore Maharashtra's hidden gem!